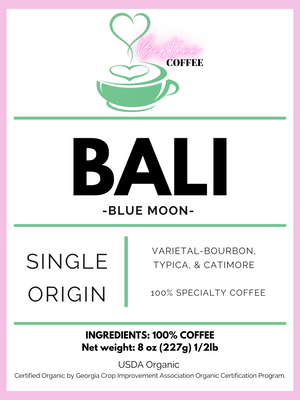 BALI - Bestiee Coffee
"BALI"
By Bestiee
- Single Origin -
Eight degrees south of the equator, lies the beautiful island of Bali. 
Bali possesses natural beauty in its people and agriculture, and you will find that each cup of Balinese coffee exemplifies the true spirit of Bali.
Enjoy one sip of tropical pleasure at a time and savor the mildly intense, heavy bodied, and smooth flavor of this Indonesian gourmet coffee.
Our coffee beans are combined from the Kintamani Highlands region of northeast Bali to the villages settled along the high altitude of the volcanic peaks.
"BALI" is medium-bodied with notes of chocolate, nuts, spices and vanilla. Every single coffee bean is harvested by hand, giving "BALI" a unique flavor profile. 
Enjoy with confidence knowing that no pesticides or other chemicals are used by the farms, there's a low acidity level and this delicious gourmet coffee is certified by
The Rainforest Alliance. 
Indulge knowing that you're supporting the conservation of valuable rainforests and the "Heal Meals Project" by The Heal You Foundation Inc.
BALI is not just delicious - it also has a social impact.
The Heal You Foundation Inc., has partnered with Soror.Tech  to donate proceeds to local food banks to help fight hunger in identified food deserts.

By purchasing BALI, you are not only treating yourself to tasty coffee, but also helping those in need!
(100% of profit goes towards the cause).